Page 1 of 2 • 1, 2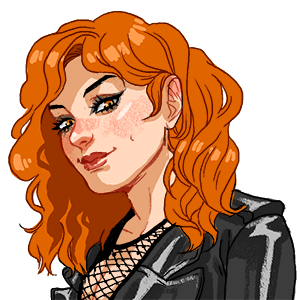 Annabelle shivered a little, pulling her coat close against the chill evening air. She was positioned atop an apartment building overlooking a hotel, the barrel of her rifle peeking over the edge, pointed directly at the front doors. She didn't know the target, just his face, as was the way of these gigs. The target was an Irish guy, short red hair, mid-thirties, wearing a perfectly-tailored suit. Grey eyes. Unfortunately, he seemed to know he was being targeted, as his room was on the inside of the hotel, with no windows, and he always seemed to have someone shadowing him on every side, getting in the way of any good shots. She'd been watching for him for two days.
Infuriating. But he had to leave sometime. This was an old hotel without a heli-pad on top, so he couldn't sneak out that way.
She waited. The minutes ticked into hours and, as the sky started to lighten, Annabelle gave up. Her eyes were beginning to droop, and a sleepy sniper is more likely to ruin any chance of success than to actually succeed.
She sighed and moved away from the scope, rolling her head back and rubbing her eyes.
Don't look back now, just pack up and go.
She disassembled her gun, packed it in its case, and left, carrying all trace of her out down the steps. Through the lobby, out the door, and
SLAM
--
She caught a glimpse of red hair in the corner of her eye as she collapsed from the blow to her head before passing out.
Last edited by kurookami on Sun Apr 30, 2017 7:00 pm; edited 4 times in total
((we'll just use suspension of disbelief that no one notices a scarred, one-eyed dude with a man bun...))
Lenore, unable to sleep, had just gotten up at an obscene hour and sat in the hotel lobby, one leg hooked over the other at a perfect angle. Everything about him was at perfect angles, just the way he liked it. He would have even ironed his underwear if it meant they could be even more pristine but he knew as soon as he started that ritual Annabelle would laugh at him again and he couldn't stand her having another thing on him for her arsenal of jibes.
Being reminded of Annabelle made him glance out the window of the front of the hotel. He couldn't see her from where he was, but he could somehow feel her presence. He adjusted his tie one more time before rounding off his folded up cuffs. He shot a quick look up at the great grandfather clock across the old lobby from him again.
'What is taking so damn long?! I'm going to start to look suspicious sitting here all alone.'
He thought to himself. A couple bottles in his gladstone bag clinked together as he tapped his toe in impatience. His job this time was just clean-up but if he could make anything move faster he might as well take it into his own hands. If their target wasn't going to meet up with him, he was going to go find the target, he decided.
He made a show of looking at his watch like he had to be somewhere at this particular inconsequential time and got up to leave when he thought he saw something going down across the street.
'A scuffle? In this part of town?'
He made it to the window in time to see Annabelle's bright hair hit the pavement. His heart skipped a beat and he made for the large glass door when a resounding
'No.'
sounded in his subconscious that  made him stop in his footsteps and remember to think calmly and cooly before worrying about Annabelle. He went through the double doors, pretending not to notice, taking the long way around the block so he could watch and follow closely. He made a mental note of not only Annabelle's attacker, but their target.
Last edited by amarilloo on Wed Jun 14, 2017 11:22 pm; edited 2 times in total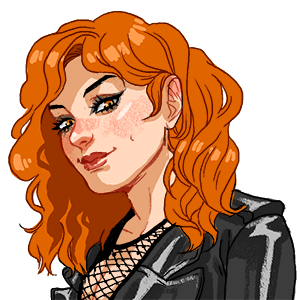 Sharp pain in her head was the first thing Annabelle felt, and a hard surface beneath her. Movement - she was inside a moving vehicle. She heard labored breathing, at least two men, it sounded like, the engine rumbling, and not much else.
She took a chance and slit her eyes open. A gun was trained on her, but the guy holding it was looking... well, not at her face. She was in the back of a van, windowless, of course. Based on the wet trickle of blood on the back of her head and the gunslinger's breathing pattern, she hadn't been out long at all.
Her gaze slid to the left -
And made contact with pale grey eyes staring right back at her.
The target smiled. "Hello." He was sitting, casual, leaning back on an installed bench, legs crossed, a phone in his hand. Lyrical Irish accent.
Annabelle opened her eyes fully and tried not to show any pain. She smiled back. "Hello. How may I help you today?"
Might as well see if he'll answer. Maybe we can skip the painful parts.
He looked down at his phone and started to swipe the screen, ignoring her. She kept her smile and waited. The van went over a bump and she jostled, her head bouncing off the floor.
A minute passed and he didn't look up from his phone.
Okay, let's try something else. I hope Lenore's noticed by now that I'm not there.
She shot a commiserating grin at the man with the gun. "Would it be okay if I sat up? I won't-" The guy with the gun pushed the barrel against her throat.
"No," he said. His voice was deep, rough, and very American.
The target didn't look up from his phone. "Careful, I want her alive. If you're going to shoot her, aim for non-lethal. A foot. A hand."
The gunman shifted the barrel to aim at her shoulder. She dropped the smile and lay still, focusing on taking in her environment. Her bag was nowhere to be seen. The two guys in the back with her, plus one driver, meant at least three people on this trip. Who was this guy?
"
Shit.
" Lenore whispered under his breath, his accent clipping the word distinctly.
"
Cacat.
" He repeated in Romanian with more force the second time.
This wasn't supposed to happen. There was a calculated plan that they were supposed to stick to. His plan. What was she doing on the bottom floor to begin with? Did she close to ignore the repercussions of what would happen if they fail? Lenore could feel a cold anger rising in his gut, closed his eyes and took a deep breath. He could chastise her later, after he got Annabelle back and knocked off the target.
His eyelids flitted open at the metallic clang of a car door and he stared down the tail end of the van they were loading her limp body into. Squatting around the back of the hotel in the gutter of a dark alley, the sun hadn't risen enough to cast light on Lenore's hiding spot, nonetheless he pulled the collar of his jacket higher over his face and stuck to the shadows. The cold, heavy weight of his gun in his pocket slipped into his hand as his mind raced to each possible outcome, each possible spider's web trail that would lead him to the best scenario to end this quickly. He was hoping he won't have to use the gun, it was messy and inelegant. That was Annabelle's work. His was cleaner. He frowned again trying to quell the knot in his stomach.
The driver loaded her bag they'd picked up after she dropped it and threw it into the passenger's seat and slammed the door shut. Lenore loosened his grip on his gun as the van pulled out and he took a mental note of the license plate and the large, smiling fish painted on the side advertising the tuna cannery that was positioned near the docks at the edge of the city. An intricate map of the intersecting streets towards the river passed through his memory as he slid out past a large trash pile in the opposite direction towards his car.
His didn't look particularly sleek or stylish but it looked respectable like it would go unnoticed in the very least. He sped out of the lot with a screech and a wince from Lenore. He knew a way that most didn't that would get him to the cannery before them. He hoped they wouldn't know it too.
Last edited by amarilloo on Wed Jun 14, 2017 11:13 pm; edited 1 time in total
After a few more minutes of bumpy ride, the van slowed.
Good, I might be able to get a chance to escape if we are changing pace.
She heard muffled male voices, then a gate rattling open, and the van started to move again, slowly, before stopping.
"Well, looks like we're here." The target stood up and unfolded a black cloth bag, moving to put it over her head. She jerked back and, apparently having been expecting some struggle, the man with the gun slammed her hard in the throat. She choked. The bag went over her head and a string tightened, closing it off around her throat. It war hard enough to breathe without the bag tight around her neck. She lashed out and felt her fist connect with skin, and she grabbed at it, digging her nails in enough that they hurt, enough that she knew there would be flesh left behind under them.
Another blow connected with her head and she let go, stunned, white lights dancing in the darkness. She felt herself get lifted and carried out of the van.
Lenore arrived at the cannery moments before the van arrived. He had just enough time to hide his ride and sneak in through a broken window. It made him cringe at the amount of dust caked along the panes of the windows and he slipped gloves with an exaggerated look of disgust on his face before he even had to touch the sill. He tied on his mask and stuck to the shadows the moment noise sparked at the front of the building. Lenore scoped out the building while counting the different voices, looking for every trick he could use to take out at least three different men. That's when he saw Annabelle, half awake and in pain. Stabbing icicles slid sharply into his gut. He swallowed his ice, white anger and focused on what he needed to do. He crouched low, slid out his pistol and gripped it tightly in two hands. And then he waited.
"Just put her in the back," the target's voice was muzzy and far away, distant in the haze of pain enclosing Annabelle's head. "And keep an eye on her, would you?" Movement made her head throb, and she blacked out.
The target sighed, watching his accomplices, Fabian and Gerard, move the girl, a little clumsily, out of the van. He needed to know who was trying to kill him - he had plenty of possibles, and capturing his assassin seemed to be a good start. His mind was racing. They'd gotten lucky, this time. Fabian had gone to the roof for a smoke and had seen her crouched across the street. It was pure chance he was still alive.
The loading dock door was half open, enough for a person to get through but not the van. Gerard hoisted the girl over his shoulder and ducked into the building, Fabian right behind him. The target stayed outside. He took out his phone and started typing.
Lenore attached the silencer to the end of his pistol, remaining as silent as the grave in the dark end of the cannery. He scrunched up his nose at the scent of fish he knew wouldn't leave his hair for at least a week.
Lenore perked at the sound of footsteps and a groan of pain he recognized as Annabelle's. He peeked from behind an old, abandoned crate. The one had her over his shoulder in a fireman's lift making it a difficult shot for him to make at his distance without hitting the already hurt Annabelle. He quickly looked around at what he had in stock around the building. Plenty of old crates, vestiges of the conveyor belts that transported cans and sardines, metal crates with old flakes of fish scales, plastic coated wiring - he paused on the wiring.
'Ah, yes.'
He could use that. Pulling out bit of old wire that was fraying on one end, Lenore pulled out a scalpel from his gladstone bag and cut off a long enough wire that he could wrap around both hands. He holstered the gun on his hip and pocketed the scalpel in his vest pocket. Leaving his bag on the ground he crept along the walls, following the two grunts while sticking to walls and the mummified conveyor belts.
They reached a back office, the one with Annabelle opened the door and entered easily without even needing both hands to keep Annabelle steady on his shoulder. Lenore took his chance and struck, latching the cord around the neck of the smaller one before he entered the office behind his friend.
Where Lenore lacked strength he made up for in leverage. At least a head taller than the thug he was able to drag the man back and knock him out with finesse and stealth. Lenore apathetically counted in his head. It always takes so much longer to strangle someone than he cared to recall. He held back a sigh. This was grunt work, not for him. Lenore watched as the grunt's eyes rolled back. Perfect timing. With a practiced hand so as not to dirty himself with the filthy floor, Lenore laid out the man and entered the office, gun back in hand.
The bigger man's back was to him, tying Annabelle to a chair. Lenore put the muzzle of the silencer to the back of his head and pulled the trigger without hesitation. He collapsed to the ground with a loud thud and Lenore slid his masked eyes over to Annabelle.
Annabelle's world was a haze of pain, but pain meant she was alive. The blood on her skin was still wet, so she knew she hadn't been out long. She felt hands tying her to a chair, legs first, then heard the characteristic sound of a silencer and a thump. She froze for a moment.
I guess this is how I go, that maniac is offing his goons.
One beat, two beats, and nothing happened. She chanced moving her arms and tore the bag off her head, her face in a rigid snarl, only to soften in surprise and recognition when she saw Lenore standing in front of her, impassive as always, a gun in his hand. The big man who'd carried her was cooling on the ground, blood leaking from a gunshot to the head.
"Oh, Raven, I am incredibly happy to see you." A flush of actual happiness ran through her at the sight of him. For some reason, she could never shake the puppy love she felt for Lenore. She bent and untied the ropes around her ankles, thanking the gods that the big grunt had been too stupid to tie her hands first. She stood up out of the chair, wincing at the pain in her head, and stepped over the body. "Have you seen the target? He's here. There were two guards with him in the van, this one," she nudged the body with her foot, "was one of them. The other's smaller. I don't know who else is here, if anybody." She went to the door and closed it slightly so it was ajar but not wide open so anyone could see in.
Lenore had his back to the wall, pistol pointed at the ground, finger on the trigger. He craned his neck around the doorframe, listening for any other noises. He hadn't seen the target yet. That meant there was at least one more to take down before he could get Annabelle out and he knew from his file that the target might have more men, especially if he was aware of an assassination attempt. He gritted his teeth and felt his stomach give a twist of anxiety.
He heard Annabelle's voice ring out next to him. He thought she was passed out at the very least and turned to face her with a start. He lifted his mask with one hand, his other holstering the gun, his eyebrows knitted together with concern. She called him
Raven.
He could feel the tingling of blood blossoming beneath his cheeks. He still was terrible at reading her expressions. Did she man that by his codename or was it like when she called him by a pet-name? Maybe she was just teasing him. He thought maybe the pet name would give him this sort of reaction so that must be it.
"I'm also happy to see you aren't dead." He replied in clipped English. H was still miffed that she didn't follow protocol and got herself into this mess but he didn't have it in him to chastise her right now.
He saw her wince as she stood up and took her in. She was grimy from the van floor no doubt with blood and filth caked in her hair. He sniffed at her muddied outfit and pulled out a handkerchief from his vest pocket. Grabbing her chin, he pulled her face this way and that to get a better look at the damage in the dim light.
"In my professional opinion as a doctor," He wasn't a professional, he didn't have a license, "You might need stitches to prevent scaring." He bent closer and dabbed at the cuts being carful not to dirty his gloves with blood. He slowly ran his thumb across her upper lip, pulling at the laceration. Noting it wasn't very deep he let his thumb linger there, coming up to meet her eyes with his own. Two long beats passed, holding her gaze. He felt the tension in his gut again.
Like he'd been holding his breath, Lenore breathed out sharply and pushed the handkerchief into Annabelle's hand to dispose of it. "Even if I bleached it to the old, perfect vhite crispness it once vas I'll still know it had blood on it." His accent slipped out easily on his W's when he was distracted.
He followed Annabelle with his eyes as she pushed the door slightly closed.
"I already took care of the small one when I followed you here." He gestured with his chin at the door, "Are you sure there's only the target left? I didn't see him. We should take car of him now or The Master will not be happy with us." Lenore, although used to punishment got chills thinking about The Master. It made the hair on his arms stand on ned thinking about what kind of compensation The Master would take from them if they'd fail.
Page 1 of 2 • 1, 2


---
Permissions in this forum:
You
cannot
reply to topics in this forum